College level competitions for Essay, Debate and Extempore were conducted on 1st Oct., 2010 and current topics were given by judges. Also a Wild Life Week was celebrated for all students of CTAE during 1st to 7th, Oct., 2010 as per the instructions given by SWO, MPUAT.

A university level screening for Agriunivfest 2010-11, scheduled form 17-21, Jan., 2010, at Anand for all contingent colleges of the University for Fine Arts Events like Poster Making, Rangoli, Collage, On the spot Painting etc. was conducted on 22nd Nov., 2010 in Mechanical Engineering Department, CTAE and results were communicated to the university. The group of selected students from all colleges was sent for preparations and participation in Agriunivfest 2010-11. The preparations were scheduled from 4th to 14th, Jan. 2011, at Fisheries Department, RCA.

A quiz competition was schedule by the faculty of Phoienix Management Institution for students of CTAE at the conference hall and 3 best teams were invited at their institution. Many competitions were arranged at their campus for all colleges of Udaipur on 23rd Nov., 2010 and students of CTAE have won 4 prizes in different events.

Inter colligate debate competition on cooperation sponsored by National Council for Cooperative Training, New Delhi was held at RCA on 30th Nov., 2010 where the debates given by CTAE students were appreciated by all judges and they won the prizes in Hindi as well as English debates.

A quiz and other theatrical competitions sponsored by Media Mind Print Corporation ISB&M, Pune at MLSU Auditorium was scheduled on 6th Dec., 2010 for all nearby colleges of Udaipur. Performance of CTAE students was remarkable and they won cash prizes in Quiz. Many students participated in MLSU Youth Festival GAURI-2010 and won prizes in various events.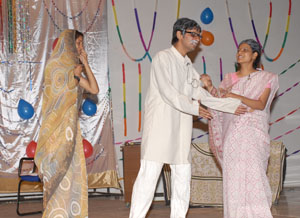 This year National Youth Festival sponsored by GOI, had been organized in the City of Lake from 12th to 16th Jan., 2011, which was the major event in Udaipur. The district administration has asked for the students' volunteer form all colleges of Udaipur. Forty (40) students from CTAE have worked as volunteer to entertain the teams from various parts of the country in day and night. Simultaneously, NSS Suvichar, convention & Sangoshthi, during Youth Festival 2011was organized at AVP Hall, in CTAE. Around 100 NSS volunteers (boys and girls) were associated with this event. The training of students volunteers for National Youth Festival was organized on 8th Jan., 2011, at Sukhadia Rangmanch.

CTAE students participated as members of contingent representing MPUAT in Agriunifest 2010-11 held during 17th to 21st Jan., 2011 at Anand. First time our students have won the gold medal in folk dance, silver medal in group song and bronze medal in painting. These students were also felicitated by Hon'ble Vice Chancellor, MPUAT on Republic day and also announced a cash prize of Rs. 5000/= to the team.

Techfest Vibhav -2011 was scheduled from 4th to 6th March, 2011. Due to students election this year an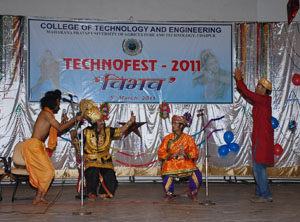 overwhelming response in each event was shown by the students. In some of the events there were more than 100 entries. Therefore, almost in each event the final list of contestants was prepared after screening. Final selections of literary events, fine arts events were scheduled on 4th March, 2011, in college campus. Final selections of theatrical events as well as music and song events were scheduled on 5th March, 2011 at MLSU auditorium. All the events were judged by a team of expert judges from the respective fields. The topics for all events were current topics and decided by the organizing committee in consultations with judges. It is worth to mention here the event Five Point Someone, which was conducted at the college canteen and appreciated by Dean and many faculty members. During this period a blood donation camp and a personality development lecture from Akshay Patra was organized for the benefit of students. It is a matter of great pleasure that all the events conducted successfully and upto the satisfaction of Dean CTAE, who has given the responsibility and extended his full support to complete these events. The results of all events are as follows: